In the dynamic world of cryptocurrency and blockchain, there are events that stand out and make a mark. One such event is LABITCONF, the most significant conference in Latin America dedicated to these revolutionary technologies. This year's conference was not just a gathering of like-minded professionals but a beacon of insight and inspiration, especially with the notable presence and contributions from our CEO.
Introduction to AI and Predictive Language Models
Our CEO took the main stage with a compelling presentation titled "Introduction to AI and Predictive Language Models." This talk was a deep dive into the fascinating world of AI, focusing on the advancements and applications of predictive language models in the blockchain arena. The session illuminated how these technologies are not just complementary but are increasingly becoming integral to the blockchain ecosystem. The insights shared provided a glimpse into a future where AI and blockchain technologies intertwine to offer more efficient, secure, and innovative solutions.
Ethereum's Evolving Journey
Another highlight was the discussion on "The Ethereum Path." This talk was particularly timely, considering the significant developments Ethereum has undergone recently. Our CEO dissected the journey of Ethereum, discussing its challenges, triumphs, and the road ahead. This talk was a deep dive into one of the most critical platforms in the crypto world, offering a unique perspective on its potential and future.
More Than Just a Conference
LABITCONF is more than just a conference; it's a melting pot of ideas, a platform for groundbreaking discussions, and a showcase of the latest innovations in the crypto and blockchain space. This year's event lived up to its reputation, offering attendees an immersive experience that went beyond the typical boundaries of a conference.
A Testament to Growth and Innovation
The success of LABITCONF is a testament to the growing interest and investment in cryptocurrency and blockchain technologies in Latin America. It's a signal that the region is not just catching up but could be leading in certain aspects of these technological revolutions. The conference has become a crucial meeting point for industry leaders, innovators, and enthusiasts, fostering a community that's passionate about the future of crypto and blockchain.
Looking Ahead
As we reflect on the incredible experience at LABITCONF, we are reminded of the ever-evolving nature of technology and the endless possibilities it presents. Our participation in this event is a reaffirmation of our commitment to staying at the forefront of these changes, contributing to the discourse, and shaping the future of blockchain and AI.
The journey continues, and we are excited about what the future holds, for our company, the technology, and the entire ecosystem that is growing around it.
Checkout some of the photos of our CEO Alejandro Narancio!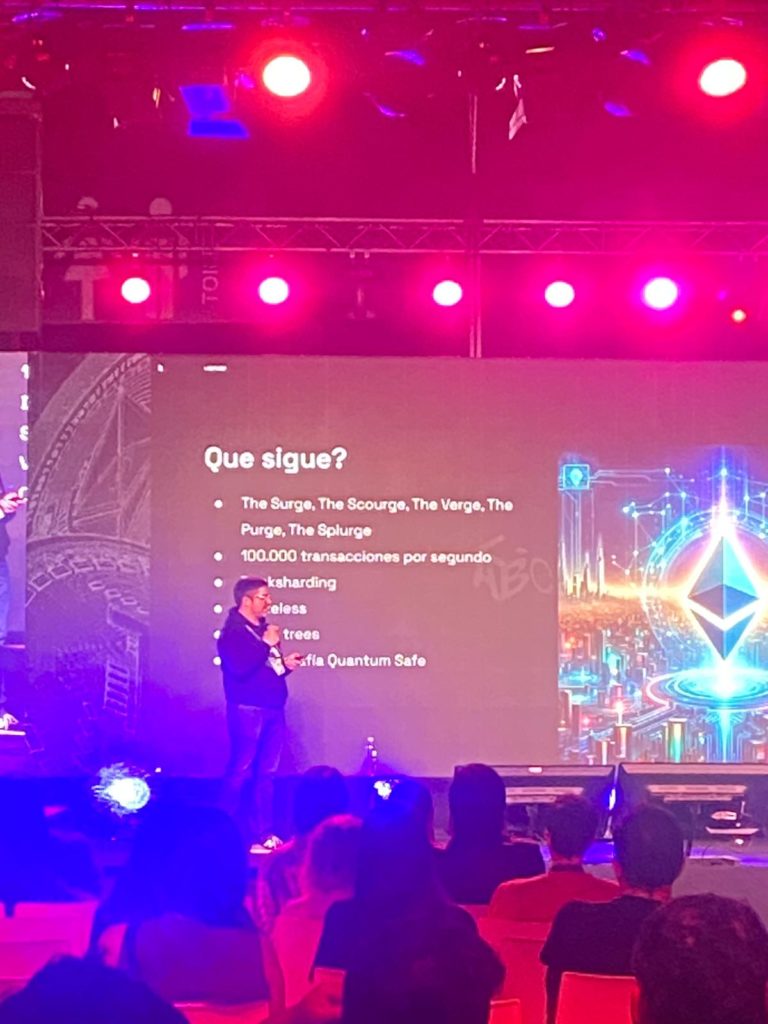 Posted in BlockchainTagged blockchain, software development
By Martin Liguori
I have been working on IT for more than 20 years. Engineer by profession graduated from the Catholic University of Uruguay, and I believe that teamwork is one of the most important factors in any project and/or organization. I consider having the knowledge both developing software and leading work teams and being able to achieve their autonomy. I consider myself a pro-active, dynamic and passionate person for generating disruptive technological solutions in order to improve people's quality of life. I have helped companies achieve much more revenue through the application of decentralized disruptive technologies, being a specialist in these technologies. If you want to know more details about my educational or professional journey, I invite you to review the rest of my profile or contact me at martin@infuy.com