We are a ninja team of expert software developers and designers with a passion for crafting innovative and tailor-made solutions for all sorts of technological challenges. Our team has been catering to our client's tech needs for over 10 years.
Highly skilled developers and talented designers compose an experienced team of professionals. Our work is characterized by its unparalleled quality, which we ensure by adhering strictly to international standards and the best practices of the industry. We offer support in a wide range of digital technologies such as VR, AR, MR, AI, ML, blockchain, mobile and full-stack web development and many others.

We have the know-how, the drive and the ability... bring us the challenges!
Management Team
---
Our Culture & Values
---
Mision
To be strategic partners to our clients, providing high-level personalized technological solutions, being loyal to our values.
Vision
To be referent company in Blockchain in Latin America, generating impact at a global level and developing innovative, disruptive and descentralized solutions.
BE A HUMBLE TEACHER AND DUTIFUL STUDENT.
CREATE A COLLABORATIVE ENVIRONMENT
BROADEN YOUR HORIZONS. ENCOURAGE AND BUILD UP YOUR TEAMMATES.
TAKE CHARGE . USE OBSTACLES AS STEPPING STONES.
STRIVE FOR HONEST AND TRANSPARENT COMMUNICATION.
Every action has its consequence. Own up to your mistakes and share your victories with your team.
ACCOUNTABILITY, INTEGRITY AND COMMITMENT WILL NEVER GO OUT OF STYLE.
How we work
---
Our ninja development teams are fast workers and masters of their craft. They approach software development with an agile methodology called Scrum.
---
How does Scrum work?
We take a step by step, sprint by sprint (each work cycle is called sprint), approach towards our client's final ambitions. A Scrum team has standup meetings, works transparently, feels a joint responsibility, is aware of the progress made every day and has results to celebrate after each sprint.
Scrum has
three roles
1
The product owner
The key stakeholder with a vision who provides direction to the team for each sprint.
2
Team members
Professionals in various disciplines who are jointly responsible for the results.
3
The Scrum master
A facilitator who focuses completely on the process.
There are Scrum lists
The product backlog in which you list your ambitions and express how you intend to achieve them
The sprint backlog: the shopping list of products you want to produce in the next sprint
The definition of done indicates precisely what needs to be done by the end of the sprint
The scrum board: this shows all of the team members' tasks, which will change from "to do", to "busy", to "done" during a sprint.
There are four meetings
The sprint planning meeting

What exactly are we going to achieve during this sprint and who is doing what?

The standup

Is everything going according to plan and are we gonna make it?

The review

You deliver your results and receive feedback.

The retrospective

You look back on the process and reflect on what you can improve as a team for the next sprint.
Why Uruguay?
---
Hey, it rhymes! It was not on purpose, we swear :D Why should you choose Uruguay as your nearshore service provider? We are SO glad you asked, there's a whole bunch of reasons why!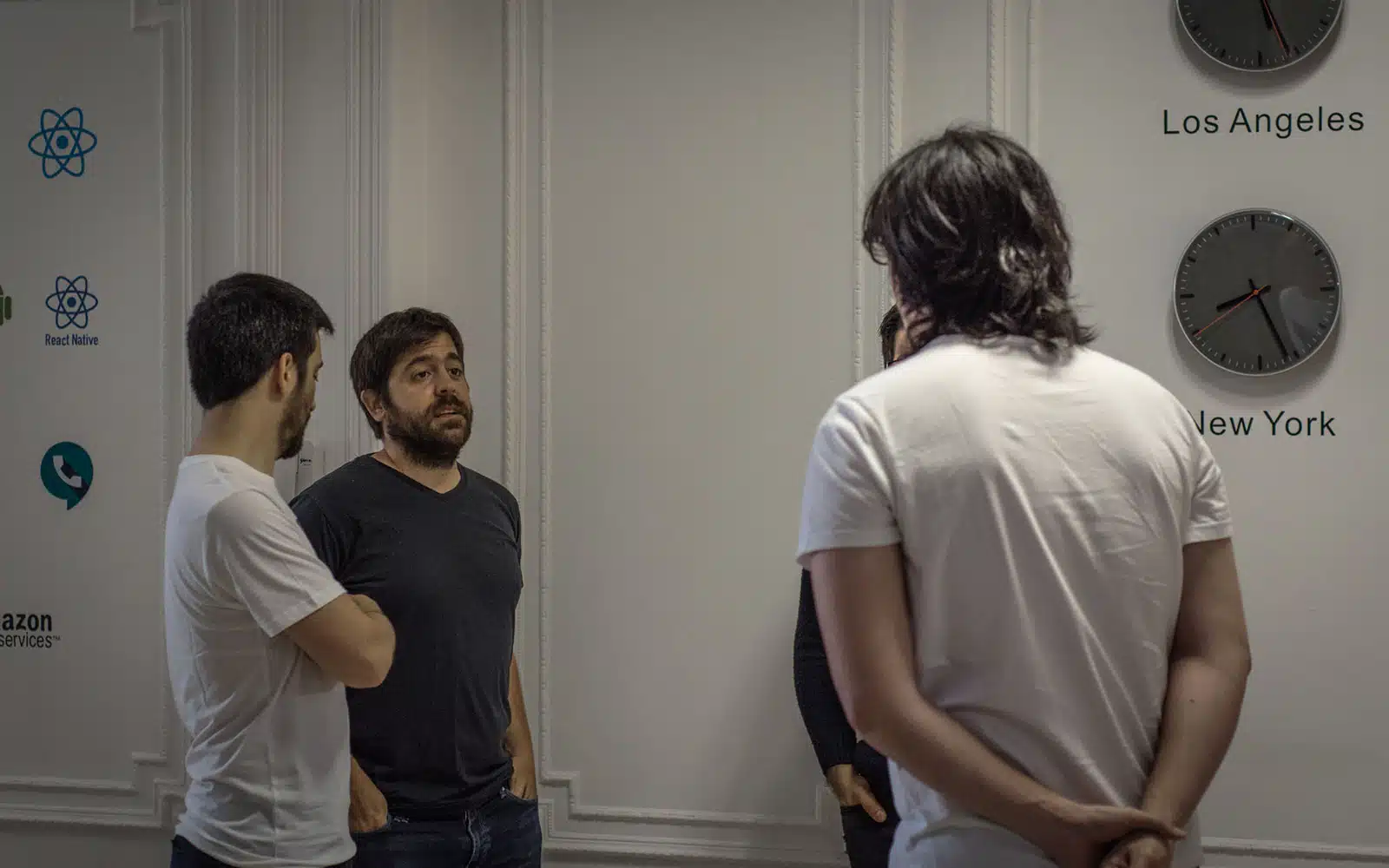 Time zone​
We're located in South America, which means we're perfectly aligned with the USA's East Coast! What does this mean? A 1-4 hour difference. We won't be working while you sleep, or vice-versa.
Strong IT Industry​
Our tech start-ups and extremely talented developers, engineers and designers have been ​praised​ all over the world. We are the third software exporter per capita in the world, and the first in South America. We take our work seriously, and we're seriously good at our work!
Political Stability & Economic Incentives
Ours is one of the most stable economies in the region. We live in an idyllic place - free education in all levels, affordable health-care and well-distributed income levels are just some of the perks of being Uruguayan. Less worry means more time to focus on developing our skills and striving for high quality work.
Language & Education
In numbers, over 75% of students pursuing IT-related degrees read English, and over 50% of them can speak English as well. A degree in computer engineering equals a Master's Degree in the US in terms of quality and syllabus content. Moreover, we have a literacy rate of 98.5% - education has been free for almost 150 years! Yep, you read that right.
Are you still wondering UruWHY? Probably not! We bet you're seriously considering dropping by for a visit. We'll be ecstatic to receive you in our HQs!
Meet us!
---
Our Offices
---
Drop us a line
---
If you have any question, tell us a story or just want to say hi fill this form an we will contact you as soon as we can.